Stuck!

Festival 2012

Stuck! Festival 2012

- Archiv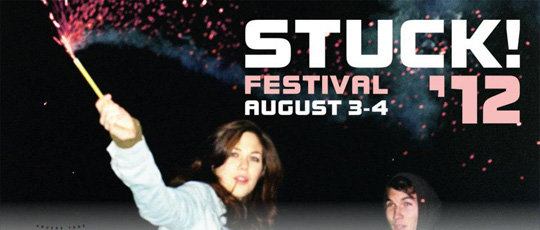 LineUp
Crystal Fighters (UK), Boy (DE/CH), Gold Panda (UK),
The Hundred In The Hands (US), Light Asylum (US),
Reptile Youth (DK), Darkness Falls (DK), Wolfram (AT),
Stay+ (UK), Sizarr (DE), A Thousand Fuegos (AT),
Die Selektion (DE), UMA (DE), Mile Me Deaf (AT),
Felix The Houserat (AT), Been Obscene (AT),
Nite Jewel (US), Babes In The Woods (AT),
YC DJ Team & Friends (AT), Purple Souls (AT)
---
Fotogalerie
STUCK! FESTIVAL 2012

Mehr Fotos vom STUCK! Festival 2012 findest du hier:
Bildergalerie Tag 1 | Bildergalerie Tag 2
---
Plakat 2012


---
Trailer 2012
Mehr Info über STUCK!
http://www.facebook.com/stuckfestival
http://www.twitter.com/stuck_festival
http://www.youtube.com/stuckfestival
---
STEFAN KALSER
Der gebürtige Osttiroler ist gemeinsam mit Wolf Arrer Co-Projektleiter des Stuck! Festivals. Von 2007 bis 2013 programmierte er den legendäre Reihe Yeah!Club/ME Klub.