Veranstaltungen

//

Kalender

//

20.11.2020
20.11.2020
Tons (IT)
Minus Green (AT)
White Noise Generator (GER)
Weddings (AT)

Freitag, 20. November 2020, 18:00 UHR,

Saal




VA: Rockhouse-Bar
PREISE
Vorverkauf: 20,00€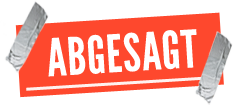 Tons
FOTO: 41990
TONS sludge/doom band from Turin (italy), the REAL esoteric city
https://www.facebook.com/TONSBAND
Minus Green
FOTO: 41991
Minus Green is a four-piece instrumental band from Vienna/Austria.
https://www.facebook.com/MinusGreenBand
White Noise Generator
FOTO: 41992
Formed in late 2017, White Noise Generator are new to the scene. Currently working on their first Album, the Band aim to combine Heavy Psychedelic Rock and Stoner to create a Full-Blast live Experience. Deep, fuzzy Guitar Sounds and spheric Synth waves work together with tight, checked out Structures and doomy rythms to ultimately Set the World on fire.
https://www.facebook.com/whitenoisegeneratorband
Weddings
FOTO: 41993
Weddings is an explosive and moody rock power trio indebted in equal parts to grunge, desert rock, psych rock, punk and doom. The brainchild of Canadian Jay Brown (Vocals/Guitars), Spaniard Elena Rodriguez (Vocals/ Drums) and Swede Phil Nordling (Bass), the band was created in 2017 after the 3 met while living in Salzburg, Austria.
https://www.facebook.com/weddingstherockband